South America
I rode through the rain, finishing the remainder of Parque Nacional Alerces in one day.  I entered Trevelin as the sun set; a soggy little town surrounded by flooded farmlands and newly formed rivers washing away fertile soil.  I took some time to dry my gear, and stared hopefully at gray skies.  Eventually, after a couple days, I gave up and wondered why I had waited in the first place.  I crossed a "pass" back into Chile, no climb at all.  Yet another bittersweet sign I was nearing the end.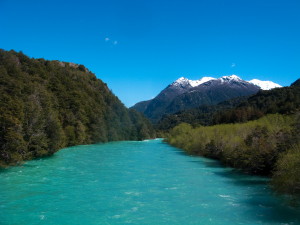 The border guard laughed as columns of rain blew by and he bid me farewell.  From there I rode down, some 70km or so, to the Carretera Austral.  That name had spun itself into something larger than life in my mind.  For so many days, I had dreamed of what it would be like, the stories and images given to me by so many Northbounders I had encountered.  The romance quickly dissolved when I first saw it laid out before me; another gravel road, much like what I had largely been on for now for some hundreds of kilometers.  Despite the rain and snow, rough road, and the undulating hills, I soon saw and came to know the Chilean Patagonia, and too was enchanted by it's beauty.  I rode up and down, through Pine forests, past hanging glaciers of indescribable blue, past fingers of saltwater grasping inland from the Pacific, and rivers with colors rivaling the Caribbean.  I re-supplied at the occasional hamlet, passing cautiously any cows along the route.
Two days North of Coihaique, I encountered the rarest of cycling anomalies, but one of the most welcomed.  Surprise pavement.  It is that $20 bill you find in your pocket when you are broke, that candy you find in the couch when your sweet tooth is acting up, or the raise your boss gives you without request.  Well, maybe two of those three things exist.  Fresh virgin blacktop stretched out before me, ready to buzz under my balding tires and provide relatively frictionless transport.  These sections came and went, unbenounced to my map.  After a surprise climb, also unbenounced to my map, in the pouring rain and the driving wind I arrived in Coihaique.  A touristy town with services to fill my stomach with something I didn't have to personally cook and an opportunity to dry out and clean my gear; almost all of which now smelled of fungus and mud.  I took a day to rest and let the foul weather pass.
Two days later, I awoke to a cloudless sky; a windy, but good day for cycling I thought.  I gathered my things and headed for the gas station fuel for my campstove.  As I chatted with the attendants and answered the same, "Where are you going?"; "Where did you come from?"; "How much is you bike worth?", questions I have become so used to hearing, the snow arrived.  I rode on anyway, eventually donning piece after piece of gear, gripping my handlebars tight to prevent the wind from turning me into traffic, and laughed at the snowstorm as I pedaled through.  The snow screamed past me horizontally most of the day, I wondered what it would be like at the top of the 1,100 meter climb I had coming up.  Thankfully, it was still just above sticking temperature there as well, and I passed over and down to Puerto Ibanez, chilled but still rubber-side down.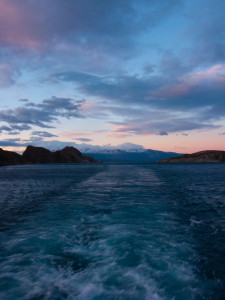 I missed the ferry across Lago Carrerra, the largest lake in Chile, by just 30 minutes. I waited until 18:30 the next day to catch the next one and enjoy the views of the sunset over the immense lake.  From Chile Chico, the port on the South side, I rode down the lake shore past deep blue waters that mouthwash manufacturers and toilet cleanser executives can only dream of.  I moved slowly, battling a brutal headwind, the worst to date.  One morning I awoke from my hidden river campsite to an amazing view, clear blue skies, and the gurgling brook.  I thought of taking a day to enjoy it, but precious good weather in Patagonia is to be ridden.
Several long days later, I reached Puerto Yungay.  The rivers and lakes transitioned from saffire blue, to pastel green, and finally mineral red.  The road led over rocky climbs, down into flat wide river valleys, and through skunk infested peaty swamplands which had me dreaming of both single malt and lager at the same time.  I had hoped to encounter services along the way, my map showing many villages, but I saw none.  By the time I reached the ferry at Puerto Yungay I was hungry, but not ready to eat my scrap of bread.  I spoke with the ferry crew, exuding the best starving waif look I could muster, and was given a hot meal in the galley before we departed.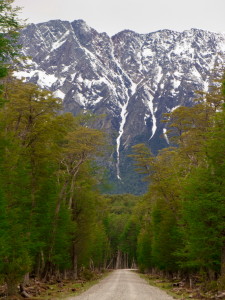 One soggy, snowy day later, across large valleys and under the gaze of soaring condors, I was happy to make Villa O'Higgins.  This small village marked the end of the Carretera Austral, and a peaceful resting point while waiting for passage across Lago O'Higgins to the South.  I was lucky to find the boat was making an extra run for the week, just two days after my arrival and half the price.  I met up with two cyclists I had met in Peru and Santiago, Christian and Edu, and we made the crossing together.
We took the boat across in the morning, finally leaving the border station around noon.  Pushing and pulling, I hauled the bike up the rocky, unridable road to the top of the hill.  From there a short section was rideable, and I remembered my love for mountain biking.  Bobbing and weaving, lifting the front wheel over obstacles, and sprinting up steep semi-technical slopes, all the more exciting on an unsuspended touring bike loaded to some 100lbs.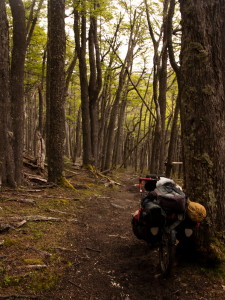 My usual pattern resumed; I wondered how I would ever get to help if I had a crash here, then indulged in the fun and cast sanity aside spitefully.  Eventually, a sign came into view stating I had entered Argentina.  Only a rough hiking trail served as a guide to lead me to Lago del Desierto, to the border station, and to the boat back to a road in the South.  The path, sometimes rocky, sometimes heavily rooted, sometimes disappearing almost entirely into a swamp, provided distinction of direction.  The heavy Trucker sunk into the soft mud many times, sometimes up to the hubs.  Near the end of the most remote 21km border crossing I traversed, the trail narrowed to about two feet wide and a depth of about three feet.  Unfortunately, the front bags did not fit in this earthen slot and I was forced to carry one on my back and the other was clipped atop my rear rack.  I had read, many other cyclists made two trips for this section, one for the gear, one for the bike.  I suppose they just weren't stubborn enough.  I eventually manhandled the rig to the bottom, covered in mud, heavily scratched from the bushes, and frequently bruised from pulling the bike up and over obstacles into myself.  I stamped into Argentina and waited for the boat to arrive that would take me into yet another anticipated region.
After crossing the lake, a large valley opened up in front of us.  So many times since entering Patagonia I have marveled at it's beauty, and constantly I was surprised to find increasingly amazing sights.  The trees here, shone bright green in the sun.  The surrounding mountains , white peaks covered with blue glaciers.  The next day I rode into El Chalten, under the watchful gaze of Mt. Fitz Roy.
Just a short 5 km from town my pedal let out a squeal.  It was a noise I remember from almost a year earlier, it was the death throws of my pedal bearing.  The bolt holding the platform together quickly spun itself off, binding on the seized and shattered bearing parts, allowing the platform to come off the pedal spindle, still clipped to my foot.  These pedals had been a replacement pair from Crank Brothers from my earlier problems.  They had been replaced for free, the only apparent surcharge, unreliability.  Unfortunately, just like in Peru, my repair kit was useless, unable to extract the outer bearing casing from inside the pedal platform.  I eventually used a part from my brake assembly to secure the platform back to the spindle and rode on bearing-less and squeaky.
With each passing day, I noticed another piece of gear becoming tired, worn, ornery, or just giving up.  My tent zipper now frequently separates, my mid layer jacket takes immense force to seal, the pad in my bike shorts literally hangs on by a thread, fierce winds have all but peeled the gore-tex patches from my rain jacket, my rims are dished to the point where I fear any downhill could be their last, several spoke nipples are split vertically, and the inserts in my shoes have worn through while the crease near my toes has fatigued and large holes on either side now let rocks in daily.  As I packed up one morning, my tent stuff sack let out a cry of desperation, tearing almost into two.  I took a deep breath, looked at my aging kit, and wondered if I would soon see mutiny.  I spoke softly but firmly, letting all nylon, steel, plastic, aluminum, and rubber know, we were going to make it.  We would walk it if we had to and no amount of tearing, ripping, fracturing, or shattering would deter me from my goal.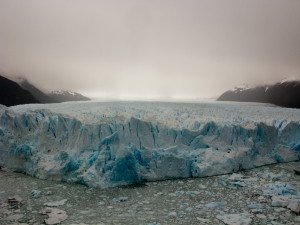 I took a couple days to view the Perito Moreno Glacier, one of the most spectacular things I have ever seen.  This monster flows some 30km down the valley, finally terminating into the lake.  Massive chunks frequently fall from the 200ft high face into the water, splashing even higher and booming like thunder through the forest.
My compulsion of the road soon had me feeling restless and I cranked back out onto Ruta 40, towards the south.  After leaving the glacial valley, the terrain turned back into the pampa I had ridden through so many times in the north.  Hardly a house in sight, let alone a tree, I passed the time driving flocks of sheep, troops of nandu (rhea), droves of rabbits, surfeits of skunks, and herds of guanacos down the road, feeling almost biblical at times.  I couldn't help but think of the impending conclusion of my journey looming.  With such a compulsion to ride, I felt like an addict must feel getting his last fix before entering rehab.
I took a direct route to Punta Arenas, enjoying the pedaling, and savoring the suffering.  I easily killed some 430km in just three days, and crossed back to Chile from Argentina.  This would be the last time entering Chile, and the fourth of the expedition.  One day, crouched on the side of the road behind The Trucker for shelter from the wind, a bus stopped and the driver approached to talk with me.  "Let's go", he said, inviting me to load my bike into the luggage compartment.  I laughed, thanked him, and told him I was fine, just taking a break.  An astonished look came over his face, and he shook his head.  "You'll wish you had come with me!", he shouted through the roaring wind as he walked back to the waiting bus and passengers.  I laughed as he drove off; if he only knew what he was missing, he would be the wishful one.
I spent a lot of time thinking about the relatively short stretch of road left.  Thinking about the day I will finish and join the alumni of those who inspired me; Alistair Humphreys, Gregg Bleakney, and my hero, Heinz Stucke.  I know that each night, as I get into a warm, comfortable bed that all around the world cyclists will be tucking tents into ditches and drains, sleeping on fire station floors, in bathrooms and under bridges.  They will continue to choose a life that many would say is uncomfortable and difficult, and they would say is beautiful.  They will revel in the help of others and give back something intangible to many they encounter.  If you should ever see a long haul cyclist on the road, you would be well to stop and offer food, water, a cold beer, or a place to sleep.  The richness of their stories will repay you many times over and if you are lucky their experiences will become your dreams as they did for me.  One day you could even find yourself atop an overloaded, wobbly, bicycle, and would learn that the colors are brighter, the food is more savory, the often unnoticed is often beautiful, and that life is richer when you pedal through it.
I consider myself oh so fortunate to have taken this journey, to have found that spark of interest that grew into something inextinguishable.  So lucky for friends and family who encouraged me.  For, dreams are slippery things.  Without support, it can be hard to get a grip.  Many who helped me along may not even have known it.  When a mind is set and a heart falls in love, they search for confirmation.  Nay saying is seen as a challenge, and encouragement, validation.  Perspective obscuring some views and highlighting others.  A dream is an immensely personal work of art, shaped, warped, and blurred.  Like the photographer's lens, the painter's brush, or the poet's pen, it proves it's point and makes it's case in the most biased, self-serving way.
With a smile and a sense of glee, I rolled through rain, snow, sleet, and hail along the Strait of Magellan and eventually into Punta Arenas.  I basked in my satisfaction of nearing completion of this journey across continents and continental divides.  Not so much for the completion itself, but for what it's been, for what I've seen, and for what it will.  Just a short 450km awaits me on the Island of Tierra del Fuego, the end of the world, and I can't wait to see it.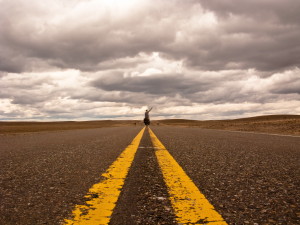 No Comments »