South America
I quickly made my way from Copacabana to La Paz, the administrative capital of Bolivia (they have two capitals).  This city lying in a huge gash in the earth, situated high in the altiplano, and in the poorest country in South America, turned out to be one of my favorite so far.  A diverse selection of food from far off lands, including American donuts, helped persuade me to take some time to get to know this metropolitan side of Bolivia and wait for quality parts.  I rented a small apartment and spent time getting to know the card rooms, restaurants, art galleries, and new friends in the almost two months I spent there.  Although the campstove makes a wonderful hollandaise, having my own kitchen meant I could easily cook recipes requiring more or larger cookware.
After receiving my resupply package, I fitted the new shifters, cables, brake pads, chainrings, and bar tape to the trucker.  I had replaced many of these parts after the crash in Peru but couldn't find exactly what was needed.  These shiny new objects, sheltered in my hands like a child who just received the very thing he wanted for Christmas, would allow me to reach all my favorite, ridiculously luxurious gears, after months without them.  The first moments with these newly oiled parts were a dream.  No clacking or squealing, no clinking or rubbing, only silence and that smooth buttery vibration shimming it's way oh so subtly up the crank arms and into my cleat, gently whispering the image of neatly greased metal perfectly meshed and sending a warm feeling up my spine.  Bliss.
Trying to loosen my load, I set off southward through more of the same altiplano I now knew so well.  The landscape dulled and a cold wind blew northward.  The impending Andean winter insisted on being noticed.  Still, I'm glad I am here and not further South toward the Antarctic winter.  The wind pushed hard against me, laughing in roaring tones at my struggle.  The path into Oruro boasted views of immense curtains of dust devils towering along the valley walls, hundreds of feet high.  Eventually the tops of buildings came into view and the city approached as the earth rolled under my wheels.  I filled my afternoon there with very welcomed Api's and Chinese food.




Two days south of Oruro, I left pavement, crossing below the huge, but apparently dry Lago Poopo.  I had found directions from other cyclists and much mentioning of a directionally difficult route in this area.  With little to no road signs, many roads joining and leaving almost any route, and locals who I found sometimes didn't even know the names of the towns adjacent to their own, it was easy to get lost.  At one point when things didn't seem right, I went against the advice of many I came across and headed in my own direction, finally following my gut.  The road I chose was very sandy, but in the end led directly to my destination, Quillacas.  From there I had planned another two days to reach Salar de Uyuni, but as things turned out, three days would be necessary.
The next day, in the afternoon, I encountered two Canadian cyclists, heading North.  We decided to camp together and share stories, a precious pilsner I managed to talk off a passing motorist, and some route information about what lay ahead and for both parties.  Since leaving La Paz, these two made six cyclists in total I had run into, all northbounders.  All mentioning I was going the wrong way for this time of year.
The next day, I found my way around the other side of the ominous Volcan Tunupa, but failed to see any crossing to the salar.  Again, following much bad advice and directions I found my gut telling me I was going the wrong way.  Searching for another way around I again inquired at many mud brick houses and found what should have been a more direct route to my destination.  I climbed up and up, on the worst road I had encountered so far, through a maze of rock walls
and past farmer's gate after gate.  I expected to reach a road which would take me along the flanks of the volcano and to the Salar.  What I found in the end of this terrible road was a closed gate.  Now high on the side of Tunupa, I looked back to see the sun set and feel a heavy blanket of cold instantly settle in my bones as darkness started to fall.  I considered pitching my tent right there on the rocks beside the road, but in a last ditch attempt I surveyed the landscape below and above, searching for the route I needed.  I found none.  I walked up further, down, left, right, I found none.  There on this desolate hillside, surrounded by small cactus like the indecision surrounding my next actions, hope arrived.  The farmer, in his van, coming down the hill in my direction.  "I think I'm lost", I told him.  "Yes, I believe you are", he replied with a chuckle.  A short chat later and I realized the mistake, the road lay well below me in the valley, my previous advice had been completely wrong.  "I'll take you down there" he told me.  So, the trucker was loaded with care into the back of this vehicle and chauffeured through the maze of gates and rock walls down to the road and the village just a few kilometers below.  Now dark, he asked my plans and I explained my usual tent setup and cooking regiment.  A mattress was hauled from his house and placed in the van where I was told I would sleep.  I was taken inside for two warm bowls of soup, tea, bread, and many curious questions before crawling into my bag and trying to sleep despite the cold like many nights before.  Like each morning before, I awoke to temperatures around 20F and water bottles completely solid.  After more soup for breakfast, I thanked my host and headed up over the hill, my hands and feet completely numb in the shadow of the mountains.
Salar de Uyuni presented itself first as small triangle of white between two plunging hills, then a huge sea of jaw dropping nothingness.  I had dreamt of riding across these flats for years now.  The most marvelous of photos had been taken here by so many other cyclists, the romance of this place courted and wooed into something completely magical in my mind, the wonder of what it would be like,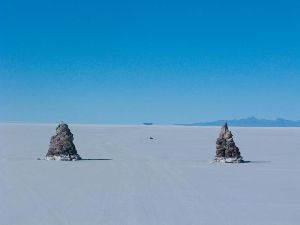 and the stories it would bring, all ran through my head as I raced toward the shore to marry tire with salt.  I glided out, in awe of the expanse, and amused by the novelty of crunchy salty crust under my wheels.  My destination appeared ahead of me, Isla Incawasi.  Rather, the reflection of the top of this island was demonstrated to me in the mirage on the horizon, upside down of course.  Eventually as I rolled toward it, this upside down triangle grew smaller and the top of the island appeared above the image, forming a messy diamond shape.  With little to no visual references to follow, these hours dragged by.  My odometer still not working since Peru, despite the magnet I pillaged from a Garfield refrigerator ornament in La Paz, I had no electronic distance feedback either.  The temperature remained right at freezing, the scorching Andean sun left me hot on one side while my own shadow left my other side numb.  Once reaching the island, I enjoyed a llama-burger (sorry Juliette), signed the libros de oro (logbooks of cyclists who have passed), and setup camp among the cacti.  A warm wind blew that evening, giving me a much needed break from the shivering nights of days past.
The next day I made for the town of Uyuni, a flat 100km away, most of which was on salt.  I watched as dots of jeeps and trucks scurried across the flats, half a horizon away, and wondered many times if I was going in the right direction.  The surrounding peak made good features for triangulating, and reassuring my course was correct.  The last stretch of dirt into Uyuni reset my "worst road ever" memory and left me riding off road to avoid nausea.
I had planned on cranking through the National Park to the south, past the lagunas into Chile, but it turned out a friend from La Paz wanted to meet me to see those sights as well so I opted for a tour instead.  It's become a strange thing to ride in a motorized vehicle.  The velocity seems frightening and exciting, the distance covered ridiculously fast, and the casualness of the passengers at the convenience of such a machine almost startling.  The tour took us back to Salar de Uyuni, past a few more small salars, many frozen lagunas, and the occasional group of flamingos.  Once at the border, I donned my riding wardrobe, assembled my gear, said goodbyes to new friends and old, stamped my passport out of Bolivia, and rode off onto some of the nicest roads I have seen in a long time.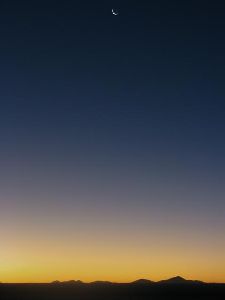 No Comments »